PRODUCT OFFERING – GROWTH DRIVERS
GROWTH DRIVERS
Regulatory Compliance
Operational Efficiency
Revenue Growth
Strategic Differentiation
Corporate Branding
GROWTH OPTIONS OPPORTUNITIES
ORGANIC GROWTH
Regulatory Compliance
HR
Sales & Marketing
Supply Chain
I.T
Production
Product
Finance
Export
Corporate Planning
Strategic Management
INORGANIC
Brand Licensing
JV
Acquisition
Synergy
Diversification
Co-Branding
National to Global
New Emerging Markets
Diversify
E-Commerce
ORGANIZATION DEVELOPMENT PROGRAM
OD Programs are long-term planned, sustained efforts. Such efforts begin when a leader identifies internally / seeks external agency to coordinate an undesirable situation and seeks to change it.
The two major goals of OD programs are
To improve the functioning of individuals, teams and the total organization.
To develop organization's members how to continuously improve their own functioning.
Value of Organization Development
Organization development deals with the gamut of "people problems" and "work systems problems" in organizations like:
Poor morale
Low productivity
Poor quality
Interpersonal conflict
Inter-group conflict
Inappropriate goals
Inappropriate leadership styles
Poor team performance
Inappropriate organization structure
Poorly designed tasks
Inadequate response to environmental demands
Poor customer relations
Inadequate alignment among the organization's strategy
Structure, culture, and processes and the like.
Where individuals, teams and organizations are not realizing their potential, OD can improve the situation.
AWARDS / RECOGNITION
Organization with all results in their field but not getting proper recognition in Industry. What you do is your capability & what others say about you is your recognition. Increase your Corporate Image by participating in events which lead to Award / Recognition.
We can facilitate process for Local Co. to become Regional , Regional to National & National to Global Recognition & to develop Internal / external Organization environment to Scale up to get awards / Recognition in the span of One Year.
MANAGING
THE ORGANIZATION DEVELOPMENT PROCESS
—STEP 1
—Diagnose the state of the system, focusing on the client's major concerns:

What are it's strengths?
—What are it's problem areas?—
What are it's unrealized opportunities?
Is there a discrepancy between the vision of the desired future and the current situation?

—Diagnosis identifies strengths, opportunities and problem areas.
—STEP 3
Fact Finding
Did the actions have the desired effect?
If No, move on to Step 4
—STEP 2
—Develop Action plans
Correct problems
Seize opportunities
Maintain areas of strengths
—STEP 4
Initiate new Action Plans and Interventions.
THE PROGRAM MANAGEMENT COMPONENT
MODEL FOR MANAGING CHANGE
—Phases of OD Programs:
Entry
Contracting
Diagnosis
Feedback
Planning Change
Intervention
Evaluation
—Contributing to Effective Change Management:
Motivating Change
Creating a Vision
Developing Political Support
Managing the Transition
Sustaining Momentum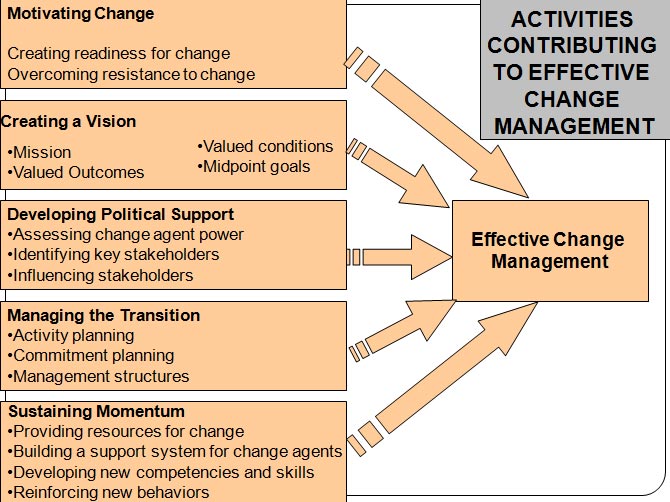 THE FUTURE
ORGANIZATION DEVELOPMENT
THE CHANGING ENVIRONMENT
The most innovative and successful organizations will be those that derive their strength and vitality from adaptable, committed team players at all levels and from all specialties, not from the omniscience of the hierarchy.
Organizations will be flatter, with smaller central staffs and with more delegation to small groups and units.
High-performance organizations focusing on the customer and continuous quality improvement and placing high value on human resources, diversity, and high-performance teams will be the norm.
Indian organizations too have realized this and are readying themselves with skill set upgradation and sweeping changes in the mindsets of executives.
OD will be a major player in assisting organizations to shift to and sustain this new paradigm and to help invent even more effective paradigms in the future.
FUNDAMENTAL STRENGTHS OF OD
The central strength of OD is that the processes are fundamentally sound. These processes include careful tuning in to the perceptions and feelings of people; involving people in diagnosing the strengths and weaknesses of their organizations and making action plans for improvement; redesigning work so that it is more meaningful and motivating; training people toward a participative, open team leadership mode; and using qualified third parties.
A second fundamental strength has to do with the political, government milieu. OD is highly compatible with democratic government structures and processes that are well established in many parts of the world and emerging elsewhere.
OD practice has been expanding in the last two or three decades to create a blending of attention to people-oriented processes with attention to the design of the human-technical system.
Almost everywhere organizations are recognizing the need for assistance in getting the right people together to talk constructively about important organizational and trans organizational matters, and for developing processes for making things better.
Thus, OD clearly has an enormous and vital role to play in the for futuristic Growth.
OD's FUTURE
Leadership and Values – For OD to flourish, top-management-CEOs, directors, top executives, including the H.R executive-and OD consultants must place high value on strong individual, team, and organizational performance coupled with people oriented values.
OD Training – The future will hold a need for availability of T-group training – as a training intervention, not as an organizational intervention – particularly for both aspiring OD practitioners and managers.
Interdisciplinary Nature of OD – OD's future, to a significant extent, is related to other disciplines. OD has been a highly interdisciplinary, eclectic field. It has been built from theory, research, and practice in social psychology, adult education, counseling, HRM, social work and other fields.
Diffusion of Technique – OD techniques and approaches have been widely disseminated in society, In large measure this positive development demonstrates that OD processes are being widely perceived as having considerable value.
Integrative Practice – OD practitioners need to be as knowledgeable as possible about structural interventions and integrations such as Total Quality Management (TQM), Quality of Work Life (QWL), and reengineering programs in particular.
Mergers, Acquisitions and Alliances – Interventions that have grown out of the OD field can be highly relevant in helping two or more organizational cultures meld and in ameliorating the potential dislocation and pain that can occur when organizations are combined in mergers, acquisitions and alliances.
Rediscovering and Recording History – The history of OD is indispensable for retaining and improving effective OD interventions and approaches.
VALUES, ASSUMPTIONS
AND BELIEFS IN OD
VALUES, ASSUMPTIONS AND BELIEFS IN OD
Values, assumption and beliefs are integral to a human being and also to an organization.
OD values tend to be humanistic, optimistic and democratic.
The values, assumptions and beliefs of an organization shape the goals and methods in the case of OD.
The structure and design of OD becomes the 'culture of the organization.
VALUES – AS APPLIED IN ORGANIZATIONAL CONTEXT
Values also known as core values of the organization are the beliefs of the management and the culture it expects its employees to possess , in order to achieve the goals.
Both the means and the ends are important. Achieving the ends at the cost of the means is not acceptable in many organizations.
The vision and mission should be in line with an organization's values.
Values are trait or qualities that clearly articulate the leadership thoughts to encourage acceptable behavior to achieve its goals and mission.
It becomes part of the organization and is known both internally and externally. Over time values become the culture of the organization.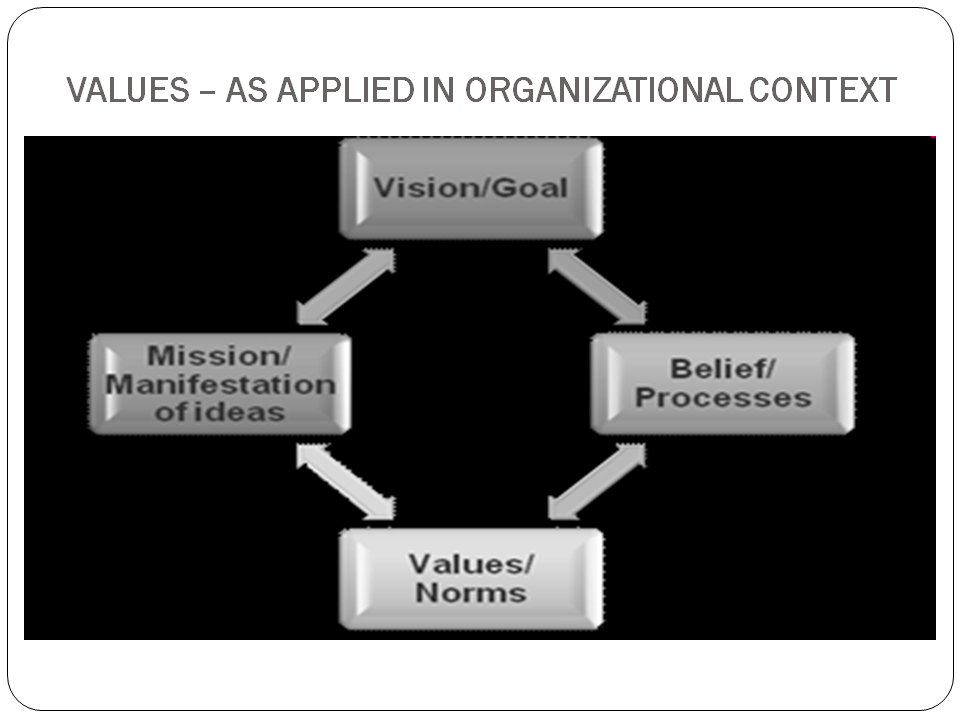 TYPES OF VALUES
Humanistic values give importance to the individual, ensure respect and dignity; assumes that everyone has intrinsic worth and view all people as capable of growing and developing.
Optimistic values requires that one sees all people as good, that progress is possible in human affairs, and that rationality, reason, and goodwill are the tools for making progress.
Democratic values assert the sanctity of the individual, the right of people to be free from arbitrary misuse of power, the importance of fair and equitable treatment for all, and the need for justice through the rule of law and due process.
IMPLICATIONS OF OD ON INDIVIDUALS
In organizations there are two basic assumptions about individuals. They are:

People want to grow and develop
People are capable of making a greater contribution.

Eg. Mr. Raman Roy the father of Indian BPO industry has stated that nobody knows the job better than the person responsible for doing the job. No manager or leader can know the job better than the individual responsible for the job. Also that same individual is the only one capable of improving things and making it better.
IMPLICATIONS OF OD ON GROUPS
There are several assumptions about groups. They are:

The supervisor and employee relationship is critical, as it impact employee satisfaction and employee competence
People want to be accepted as part of one or more groups.
Each team member is capable of making a much larger contribution than what the other team members can imagine.
Leader alone is not enough to address all the aspects of his team. The team members also contribute to enabling the leader.
Attitudinal and motivational problems in organization require interactive and transactional solutions.

Greater acceptance of each other can resolve the most complex of the issues. Therefore always focus on the issue and not the person associated with the issue.